Faculty and Staff
---
Teach eCore Courses
USG eCampus seeks outstanding, motivated University System of Georgia faculty members to teach eCore courses. If you are already teaching at a USG institution, you can apply to teach eCore courses by completing the online application form. You should submit your CV along with your graduate transcripts via the online form.
Complete the Memorandum of Understanding (emailed to you one week prior to the beginning of the term).
Submit the appropriate approval form and obtain approval from your home university or college. The approval form is an electronic workflow which is initiated once you are invited to complete the online eCore Faculty Certification which is offered multiple times each academic semester.
Attach your transcripts and CV with the online form.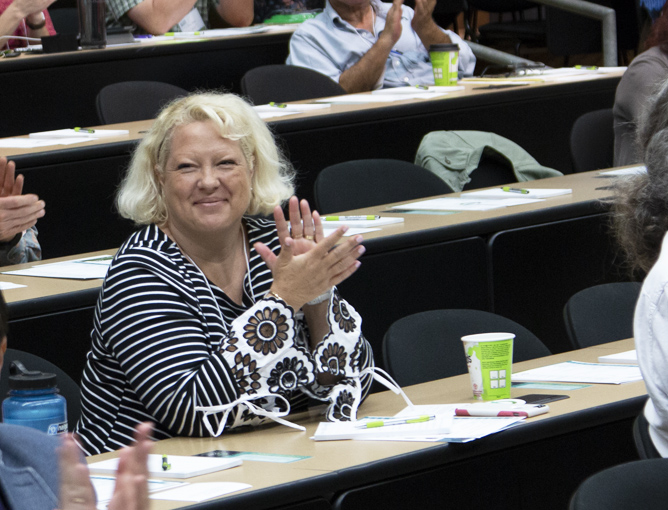 Required eCore Faculty Documentation
Online Application Form
Memorandum of Understanding (MOU) Faculty Expectations

Review and complete electronically prior to each term.

Faculty Approval Form

Completed annually and electronically via Xitracs workflow.
Christy Talley Smith
Director of Curriculum & Instruction USG eCampus
Murphy Building
University of West Georgia
Carrollton, Georgia 30118
Faculty Selection Criteria
Formal appointment as a USG faculty member.
Approval of Department Chair, Academic Dean, and Chief Academic Officer.
Commitment to teach for at least one semester. Preference is given to faculty members who can teach at least one course in fall or spring. Faculty members who meet the criteria outlined in the Memorandum of Understanding may be invited to teach in future semesters.
Satisfaction of SACSCOC accreditation criteria: USG faculty members must have at least a master's degree with a minimum of 18 completed graduate hours in the teaching discipline. Completion of a doctoral degree is preferred.
Mastery of basic computer skills, including the ability to navigate websites, manage email, work with attached files, and perform other basic computer tasks. Teaching online and working within a learning management system is preferred.
Participation in an annual eCore training workshop is required
Commitment to teach eCore courses as developed and systematically reviewed and revised by USG faculty teams and to use the approved course textbook(s).